Hello everybody,
I'm Manfred from Germany and I've been a passionate model builder since my childhood, initially making models from paper kits, airplanes, helicopters, ships etc.
Since my retirement I have been deeply involved in Real Space Modeling and in 2011 I started a long-term project in which I recreate the Space Shuttle Launch Pad 39A at the time of the first Challenger Mission (1983) STS-6, based on the legendary Revell Launch Tower Kit 4911 (1:144).
Unfortunately, since this kit has a serious scale problem, I had to make some compromises and decided to build the Crawler Transporter (CT) and the Mobile Launcher Platform (MLP) in scale 1:160, since the kit's Launch Tower (Fixed Service Structure) and the Rotating Service Structure (RSS) are roughly to this scale. The MLP, on the other hand, is the absolute weak point of the Revell kit, as it only corresponds to 1:200 and is therefore much too small. Only the Shuttle Stack (Orbiter, External Tank and Booster) is scale 1:144.
I was inspired to this Long-term project by similar modeling projects in the German forum Raumfahrer.net.
If you are interested in this project, I could present it here in the forum under Real Spacecraft in a suitable form (maybe as a continuation?), since over the years it has led to an endless construction report, which I have been posting in five various forums since then.
On this image one can see Challenger's Lift-off to her maiden flight STS-6 on 04/04/1983.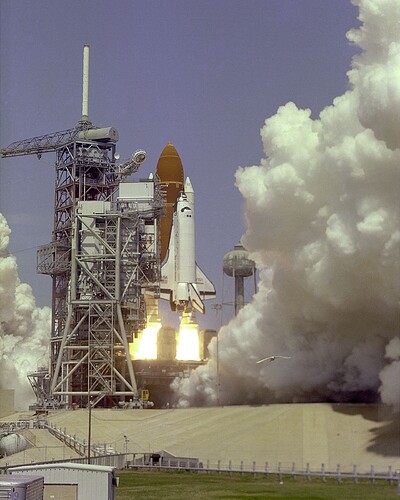 Source: NASA
I'm looking forward to your feedback.