A head to head comparison of Godhand vs. Zoukei – Mura
Decades ago, Xuron "invented" the sprue cutter. A neat little nipper used to clip styrene parts off the sprue without tearing great gashes in them. Gone were the days of cutting parts with a #11 blade, hoping to get them off in one piece. A simple clean up with a sanding stick removed the attachment point.
Then Xuron re-invented the sprue cutter, the model 2175ET, ($17) making them "Professional", larger for some reason, wider, and with about as much finesse as a Cat D9 in a rose garden. People began looking elsewhere. Everyone seemed to settle upon the Tamiya 74123 sharp pointed side cutter ($30) as the preferred tool for people in the know. This little nipper was smaller, more comfortable, and cut cleaner than the Xuron. There was peace in the kingdom.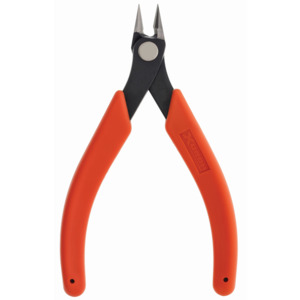 Xuron 2175ET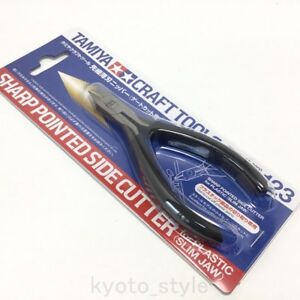 Tamiya74123
Then a couple of years ago, a renegade from Japan burst on the scene with wild claims – "sprue cuts with no clean up!" and a blasphemous name – Godhand. At a righteous price (originally $70, now $58) many questioned the SPN-120 cutter's right to exist, let alone its claim of samurai clean cuts. There are scores of reviews on these cutters out there, and most defend the price, calling them the best sprue cutters in the world. I won't re-review them here, but suffice to say I have a pair, and if you hold them correctly, YES, they do cut pieces off the sprue with no clean up required.
Godhand SPN-120
So, while my Xurons sit in a drawer and my Tamiyas are reserved for monster sprue gates, I've been happily cutting away with my Godhand sprue cutters. They are unique in that they are 1 bladed nippers. There is an edge on only one jaw, which closes against the flat surface of the opposing jaw. They are very sharp and very clean cutting. However, the flat jaw is about 3 times thicker than the cutting jaw, making it tough to wiggle into tight sprue / part spaces to make the cut. With models having exponentially more and smaller parts, I have been encountering this problem more often lately.
However for years, beyond the lit studio, like a Jedi in the shadows, I had heard of, and sometimes glimpsed, another. A legendary pair of nippers originally designed in Japan in the 70's and then OOP. Re-introduced some years ago but not widely available. The Zoukei – Mura Pro – Zetsu Series ($40). These nippers can be found for sale with a Google search and are available from BNA Modelworld in Australia, among other places. Here in the States, I chanced upon them at Michigan Toy Soldier, so I decided to see what is so special about these nippers and how they stacked up to the Godhands. This should be the ultimate match up.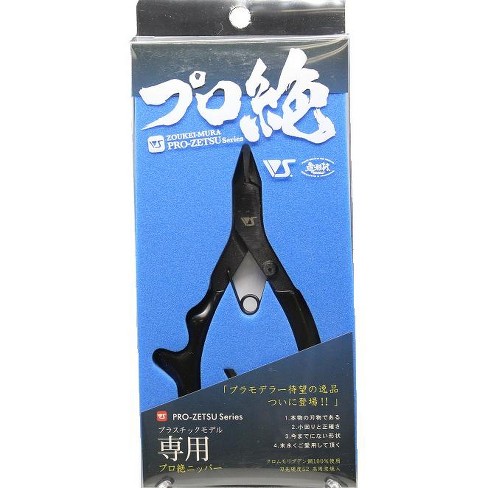 Zoukei - Mura Pro - Zetsu Series
To start, both of these nippers are almost identical in size. The Godhand are a little wider, the Zoukei a little taller. Both fit comfortably and neatly in the palm of the average hand. However the Zoukei have ergonomic finger stays on the right hand handle, making handling and positioning of the Zoukei nippers much easier and steadier than the Godhand. Both are good to work with, but the control and comfort round goes to the Zoukei – Muras.
The blades on these are completely different. The Godhand feature one blade short flat pointed cutters while the Zoukei – Mura have 2 blade longer sharp pointed cutters.
I'm not sure if it's fair to test almost 2 year old Godhand against brand new Zoukei, but I wasn't going to buy brand new Godhands for this competition! Now to the cutting tests. I currently have the new Gecko Daimler armored car on my bench, so I made a few simple identical cuts with both nippers. In all the results photos, Godhands cut is on the left, Zoukeis cut is on the right. Both nippers cut close, but the Zoukeis feel sharper, perhaps because of their double bladed design. Indeed, the Zoukeis seem to have cut cleaner or identical to the Godhands. In addition, the Zoukeis longer, pointier, thinner blades reached into tighter spaces than the Godhand, making them very versatile. The Godhand provide a squarer cut, but I would shy away from saying a better cut. Look at the photos and judge for yourself.
I wasn't really trying, so only on the turret floor did I get a perfect cut with either of them, but you can see how precise the cuts are and the difference in them.
I thought the Godhand were the be all and end all of sprue cutters, and I am very happy with them, but the Zoukei – Mura cutters have really opened my eyes. I like the Zoukeis very much. Considering the Zoukeis ergonomics, feel, cut quality, and blade reach I will be using them as my first line sprue cutters from now on.
Taking into consideration the Zoukei – Mura's $18 price difference, the quality of cut, and handling of the tool, it is this reviewer's conclusion that the Zoukei – Mura Pro – Zetsu sprue cutter beats the Godhand SPN – 120 sprue cutter in a head to head match up. The Zoukei – Mura are also packaged with a spare return spring, which tells me that they are built for the long haul. The legend is true, there is another…