Yeah, he's got a set of pics for the M1 assault breacher too. They are fantastic!
I have a question. Are these the right aerials for the Stryker?
I want to try to apply the anti-slip covering. With black paste from mig and a sponge. I have now tried to attach it to the back door, if the stuff is wet you can remove it with water. now has to dry for 24 hours, let's see how it works.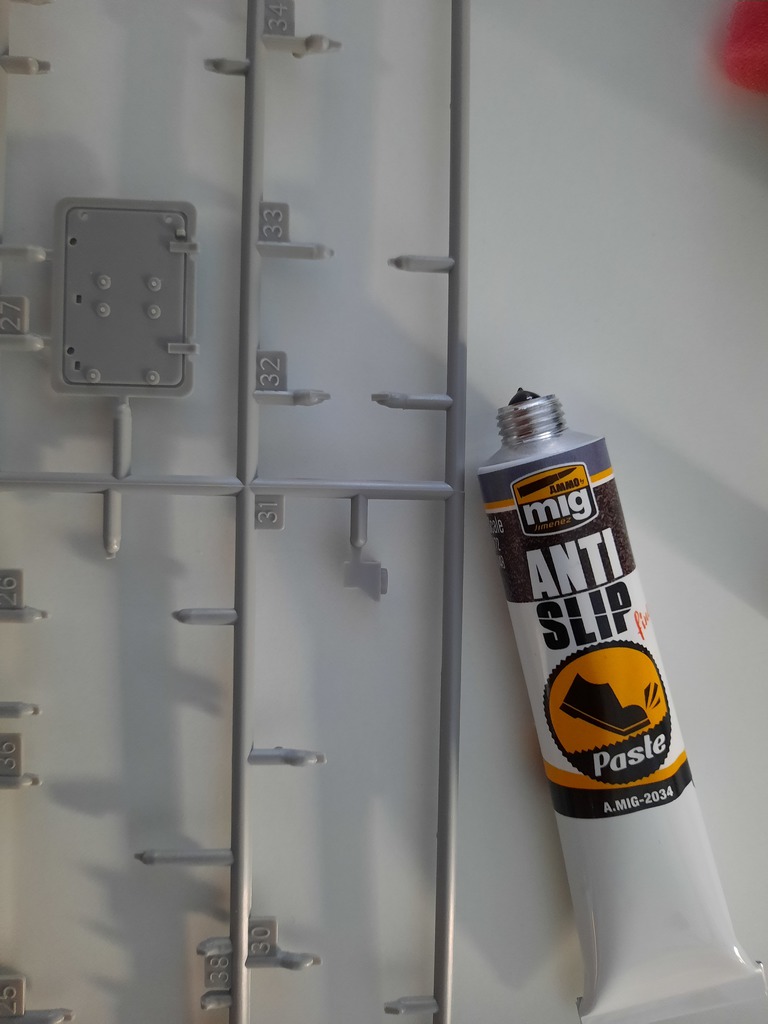 Gruß Viktor
Why should there be an anti-slip on a vertical surface? Since Strykers are convered with MEXAS composite armor there is no need for an anti-slip. MEXAS consists of ceramic blocks which are covered in Kevlar. And Kevlar has a slightly rough surface, so you don`t need extra anti-slip coating.
This comes kinda late, but here's another way to make realistic colored lights and reflectors that I've described in a different post:
Two more pictures of stuck-on foil and foil behind clear kit part: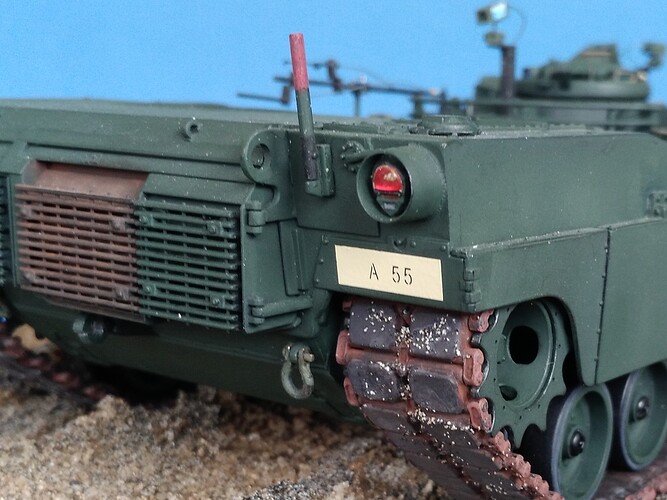 I was going to mention anti slip … I didn't think they had it ?
I'm new on the forum, posted my Stryker in a different post. Can I still join the Campaign.
For the moment building the MGS Stryker.
Grtx Jan
Sure! Come on in! Pull up a seat!


as mentioned I'm new and not a frequent builder, just love the modern wheel vehicles.
Started some weeks ago building the MGS from AFV models.

building straight from the box, still learning to work with PE so upgrades in PE are not always useful for me.
used bronze green (75%) with dark Sand (25%) as a basecoat
afterword's I started some weathering and shading with several greens and applied on some places a light filter of dark grey.
For the moment I'm working on some detail painting and creating some small part to complete the overall view. Repairing little things I have broken ore lost in the carpet monster. And looking for the right fitting for the equipment and baggage.
My work until today, hope you like it a bit.
Looks really good Jan, and welcome.
Was the metal barrel with the kit or was that extra ? Stowage looks nice as well and not cluttered.
Looking good. A couple pointers on extra gear though. The water cans (single handle) come most commonly in black and sand. At one time they were in dark green, but that color was discontinued.
The fuel jugs (3 handle) are in a medium sandy brown color. The caps are usually only painted red for mogas when used in units that have anything that uses mogas. They are otherwise understood to contain diesel (yellow).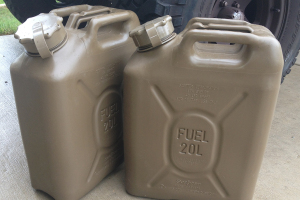 Nice looking MGS.
Thanks, the metal barrel and the PE are included to the box.
The model is from AFV models, the other stryker I'm working one are from Trumpeter.
The box from AFV is more complex I find, a lot of very small parts.
Thanks for the exposure of the fuel jugs, and the photos.
I have now only the 3 handle metal jugs on exercise, always labelled red or yellow.
So I have something to do for the fuel jugs.
grtx Jan
Good job on MGS Jan. On thing to look for on your next build.The ring on the rim is only attacked on the front left wheel. It serves as climbing aid for the driver. On all other wheels, the crescent moon-shaped device is attached. As for stowage. putting the rucks on the rear deck is not advised. This would block the roof hatch. Rucks are usuallly hung on the side stowage baskets. On more advice. Avoid Trumpeter Stryker like hell. It`s so crappy and out of shape that its only a waste of time and money.
@ Gino Green water cans are still around.I also saw tan colored fuel can last year.
Thanks for the advice on the wheels, good to now for the next build.
About the Rucks I now, but it isn't the first to get lost after a tactical move.

For the trumpeter kits, I have two they are not of the same quality as AFV but with some dedication I think for a starting builder good enough to start with. The MGS is from AFV and some of the parts are for my opinion just to far split up, 4 pieces for a part of 2mm is ferry small. I now some builders want it even smaller and more detailed, for me its difficult to handle.
But thanks for the advice, hope to learn al lot from you.
I never saw a green water can in 24 years of active duty service. I have seen pics of them so I assume there could be the odd one or two still out there though. As to the tan fuel cans, different batches/manufacturers use different shades of the sandy brown plastic. I have seen some lighter than others, but they were darker than the sand water cans.
I would like to see some aftermarket company kit up the big AC unit that the current MGS Stryker has on the front right side - it's SO visible and outside my very limited scratch skills.