Cool! I just finished the Chi-Ha for the "Land of the Rising Sun"-campaign.
I looked at the box top

I opened the box.

1 A Sprue, 1 B sprue, 2 C sprues, 2 decal sets, 1 hull bottom and top, 1 hull top from the early model kit. 1 set of rubberband track, 1 Eduard photo etch set. Not bad for S10:00. Now if I could just remember when I bought it…
Greg, I'll take your $10 and raise it $3.99 - actually…I'll lower it $0.91 as mine is AUD not USD: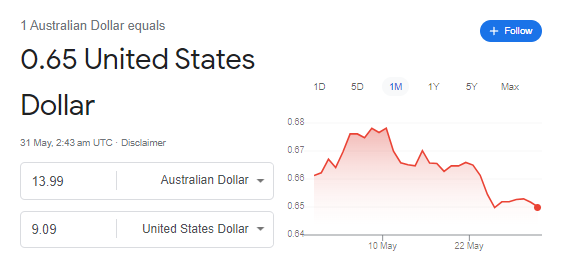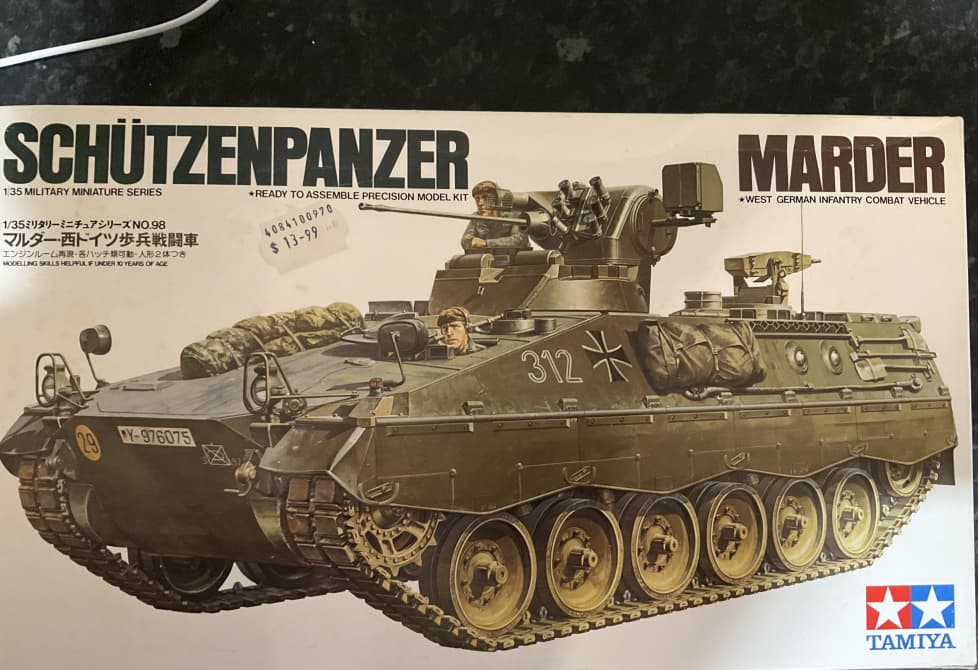 This one was probably acquired in the mid-late 80's.
My start pic:

AFV Club Tracks and Eduard Etch to add. Somewhere I have a barrel from RB Models too.
More nostalgic eye-candy popping up!
Nice!
I built that kit some 35 years ago, I think. And am actually hoping to find one again.
This will be the third I have built. First was in 1978 - must have been the first batch to hit Oz. About 15 years ago I built one for the neighbour. He was ex-Bundeswehr and it was the last machine he worked on. He gave me a photo to for the markings.
I liked that kit. It was an enjoyable build.
Nothing beats the old Tamiya kits in buildability. Just pour glue in the box and shake it
@petbat, are you going for a Ukranian version in pixel camo?
Wrong version for that Jesper. Mine is the original A1 type. Bog standard Oliv Gelb for this one.
To bad, Model Master use to make that color.
AK Real Color makes two versions of Gelboliv and it's absolutely amazing paint.
love that base colour Ryan, very nice indeed mate.
I might join in with this one. Think most of my stash would qualify!
Will have to decide once I've got one or two other things finished up.
I am almost done with my BRDM-2 build…
Almost. Needs more work to blend the seams between the top and bottom hull.
This is why I hated this kit.
Ok, I've made my choice.
I'm going to do the Super Model 1/72 Aermacchi MB-339A. According to Scalemates it was first tooled in 1997, so just at the tail end of the campaign criteria.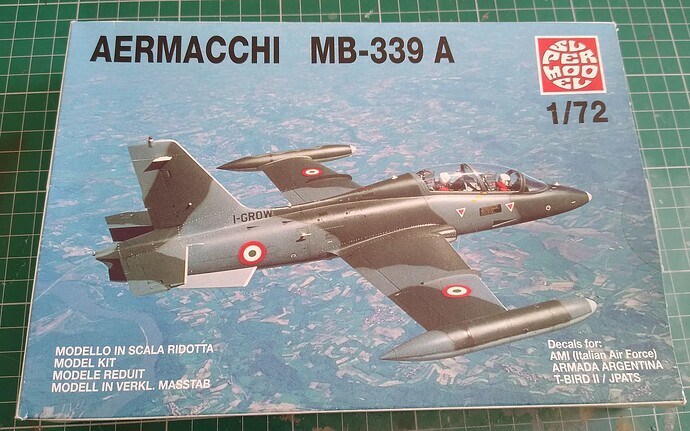 The plan is to build it as an Argentinian aircraft used during the Falklands and armed with the cannon pods (courtesy of Italeri's spare parts) and Zuni rockets.
Should be a nice easy build.
The galleries for the guns etc added.

The deck painted deck tan
The deck glued to the hull and then masked for the painting of Kure grey
Even tho the box art show support columns for the front flight deck none are provided or in the instrutions so I got out some U-channel and made ny own
Does anyone have a photo of the turret top of a Japanese Type 97 late? I am looking to see how the turret roof is attached to the turret sides and front.
Painted Woodland camouflage pattern using AK Interactive's 3rd GEN "Woodland Paint Set." The flesh is painted with Vallejo "Basic Skintones."
Back when I was a student, I used to spend a Summer's day painting each figure and the pattern. Now that I know how soft in details and cheap DML figures are, it's more like an hour spent for painting three figures so I rushed the camouflage pattern (I could have painted the pattern more realistic) to move onto the next figure campaigns that I want to enroll in with much more detailed resin figures.

Since these are 1/35 DML figures, I don't expect much improvement with drybrushing, washing, inking, bordering, and detailing. I've painted over 100+ DML figures and the details are often too soft to make much of a visual difference in appearances no matter how much finishing touches and detail painting goes into them. I will do my best; however, there are other Armorama campaigns that I am interested in entering after "Summer Nostalgia 2023" is completed so I am in a bit of a hurry to get these finished.
Unlike the 1/135 DML OOTB figure sets, my kitbashed figures are not accurate to any nation and don't represent any real military unit or branch of service—they're just for the "Summer Nostalgia" campaign, but boy, does this bring back memories!