Don't forget the Kalinin K-7 (7) and An-225 (6), Boeing 787, Airbus A380.
I think I have a C-141 in the stash…
Thinking about a C-5B/M in 1/700 scale. BIG plane, little model. You know…with the visor up, the ramps out, etc How much time is left on this one?
I put it down to begin on 1 Jan next year and end on 31 Dec IIRC…
Tough choices in my stash… several four engine possibilities…
Might be able to do a C-17 in time. Yeah, I know but I am sloooooow builder.
LOL … How about this @phil2015

Will look like this on screen:


Or you could go '4 burning & 6 turning':

Or…

I like this one - it really shows it is 4 engines or more - and a big plane!

No +2 engine planes in the stash, but really interested in this one. Think I'll be in with either a 1/72 B-17 or academy 1/144 B1 lancer. Leaning towards the lancer. Would love to do it in 1/48 but think I'd need another garage
Your car will be fine in the driveway.
So when would this start?
ready boys? i see that it's Jan 1 in some parts of the world.
I won't be starting for a few months. Need to crack open my B-25 and Jill bombers for the Twin engine bomber campaign, and Land of the Rising Sun campaign. I also need to weather an Archer, Kv-1, Leopard C2 and paint a Shot Kal and Elefant.
Anywho, here are my starting pictures! I'll be in with Airfix's 1/72 B-17G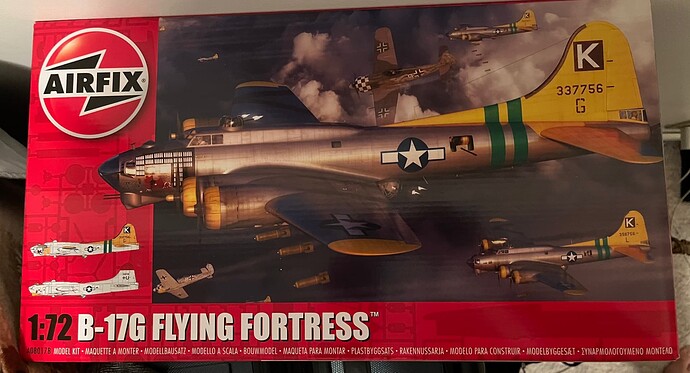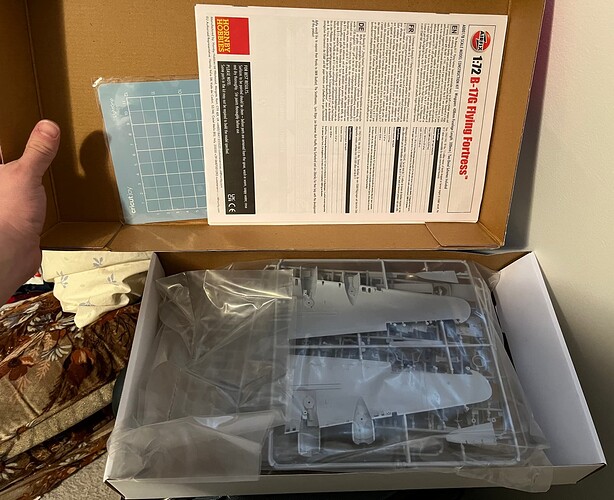 I built the ancient version of Airfix's B17G. Interested to see how this one comes out.
I'll allow it!
The new one looks really nice in the box. It is missing the riveting, I am toying with the idea of adding it back, but in 1/72 not sure it's worth the effort. The interior is quite detailed, I am toying with the idea of adding LED lights to the interior to make it more visible but not sure