Looks quite different from the last Eduard Camel I built, nice work so far
Looking great, Digger. Some really nice details.
I'm just amazed at the wonderful detail you got into the cockpit of this Camel. Great work!
Paul
Can you post a picture of this? Anything that can help with that forrest of rigging on your HP model has to be worth taking a look at!
Paul
Like many modelers, I'm scared of rigging. I have all the WNW kits but have yet to actually build one due to my fear of wrecking one of these wonderful kits. Can you tell us a little about your process? I have not heard of 3D resin or a UV torch. How do you use them?
Paul
Thanks all for the comments. To be fair the kit is a good OOTB build, so can't really claim too much credit for the detail.
As @phil2015 has already pointed out on his build, the only tricky part is getting the guns to seat correctly on top of the instrument panel as they don't seat very well.
On that subject @phil2015 what finish are you going for on your two sopwith camels, as since it's your campaign and you started first, didn't want to tread on toes?
Not sure yet. I tried using the kit decals on an old version of Eduard Camel I built for a friend. I destroyed one set and managed to get the other set down, so I have to find some aftermarket decals. They will be RFC subjects rather than American subjects but don't know what.
I really wish someone would make some aftermarket RFC roundels…
Rather than clutter up this thread I could start one over on the WW1 aircraft section. I don't know that I would use my process (most of which I learned here) for 1/32, at that scale I might be looking to show brackets and turnbuckles but happy to go through how I do it. Give me a day or two to find a kit. As a good kit for learning rigging you can't beat an Albatros DIII or DV or Nieuport 11, 16 or 17. All have fairly simple rigging, btw I have a 1/48 Eduard Profi Albatros DV, a 1/48 SMER Tiger Moth, a 1/72 Revell Stearman, a 1/28 Revell Camel or 1/48 Eduard Biff in the stash.
You are welcome to put it here, of course, but I think it would be nice to have a separate how-to rigging thread where you share your techniques and others might contribute theirs as well.
I agree.
Have two Moths in the stash that will need rigging. Never done it.
Or you could add a sub thread here? It has it's own header, etc, just is comes under the Umbrella of the campaign. Just go to the Campaigns page and click on the Category for the thread:

When the Summary screen opens select "+New Topic"

Then add the tile and the first post details. Lastly push the blue button to post it:

Now you have a thread that comes up in searches, comes up as a 'Latest' thread when new posts are added, etc.
In 2014, there was a thing on YouTube called the Great War channel. They had a couple of short videos each week talking about what was going on in the war, 100 years ago, that week. It was pretty neat. And then they had some add on programs on special topics. It was cool.
A friend of mine bought me some Great War socks, a promotion for this effort. Last week, my wife pointed out that my Great War socks now had holes in them the size of a crater formed from an underground mine and that I couldn't wear them anymore. I lamented this to the friend who gave me the socks and he showed up tonight with a new pair of Great War socks, and three pairs of WW1 German camouflage socks.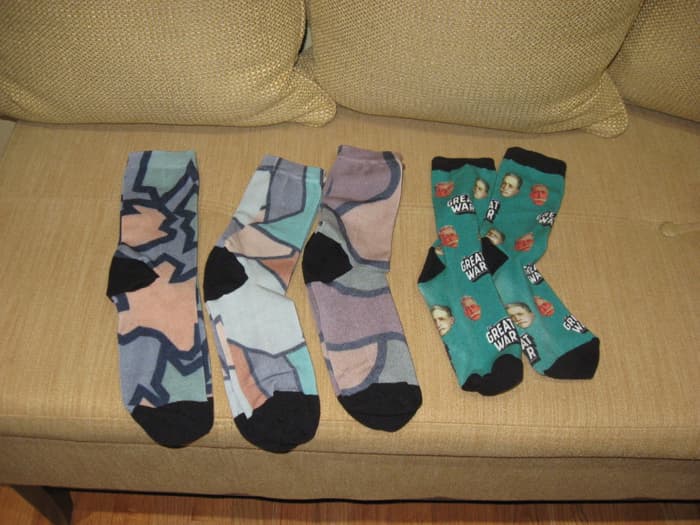 Brings back memories
I have several of the GSM armored car kits and will probably built the Autocar Canadian car for this build. I have been casting an eye over the Lancaster kit. The wire wheels look to have out of scale wire. Is there a way of thinning them without loosing structural integrity? Are aftermarket wheels available?
Paul
I've got a vague recollection that they do a set of etch replacements for the wheels? I might be wrong though and thinking of something else.
I built it a couple of years ago and it went together really well. You do have to watch lining up the hull sides to keep it all square. Only negative is it's lack of interior. It was their first and they learned a lot from the feedback from it. They have announced a resin interior, not sure if it's out yet? I scratched mine from plastic strip, rod and rectangle section. Bit simple but ok for what can be seen. I did a build log here, it's around in the armour forums somewhere. Will have to find it if you're interested.
Good choice with the Autocar. That one does look like a nice kit.
CSM make two sets. One a 3d printed set: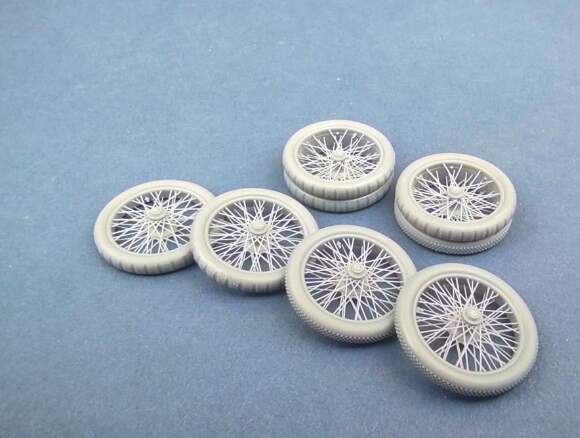 The other multi-part
Reviewed on the old site:
https://archive.armorama.com/news/29361/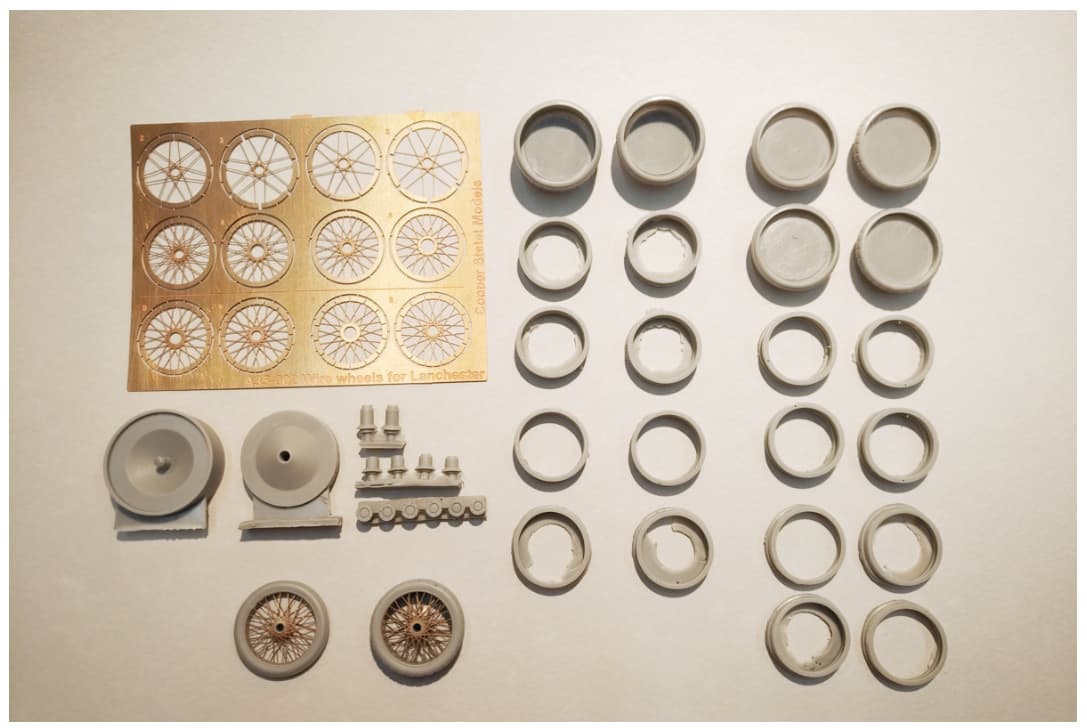 Plus model also do a 3d printed set: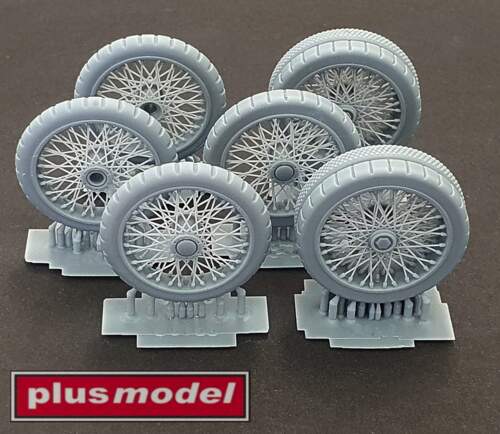 Wow, I'm impressed with the set from CSM. They are 3D printed and look very good compared to the kit wheels. Vargas has a Peugeot armored car that I passed on as the 3D printed wheels did not look very good. CSM shows that it can be done so possibly Vargas will redo that kit with better wheels.
I'm a sucker for the Autocar. Back when I was pushing rigs over the road I always admired the Autocars. They were mostly seen in off-road applications in those days, often with set back front axles. Ugly! The styling made no concessions to the modern world, it was hard to tell if an Autocar was 30 years old or brand new. I liked that.
The instructions with this kit say it is of a two cylinder UF model which was made from 1907 through 1927, a twenty year production run that even beat Ford's Model T by a year.
Paul
Those are the ones I was thinking of!
Glad to know it wasn't a figment of my imagination.
Construction pretty much completed to the point of laying down the base coat. Will add the upper wings and struts after painting along with undercarriage.
Pretty certain I will cut masks for the roundels and tail fin flash/rudder marking and only use the marking specific decals. If that works out, I can send you the roundel decals etc @phil2015