You are your own model show
In Germany model shows are usually without a contest, they are just for showing, chatting, buying …

If there's a contest, there are special tables where you put your contest models and have to registrate them in categories. I am no friend of such contests and I'm happy living without them. In a hobby there should be no contest. Building models gives me pleasure and I build just for myself, not for medals or trophies. I know it's different in other countries, like in Czech Republic where usually every model on a table takes automatically part in a contest …

As I said, P7666 is probably first crossing the finish line, and here she is. Some quick shots on the work bench. I think I have nothing forgotten. The rear mirror was the last part I added this evening. So I call this build done.
Spitfire Mk. IIa, P7666, EB-Z of No. 41 Sqn, RAF Hornchurch, November 1940
Pilot: SqnLdr Donald O. Finlay
Kit: Eduard 1/48
For the camouflage I have used:
Revell Aqua 82 Dark Earth
Revell Aqua 59 Sky
Revell Aqua 302 Black
Vallejo 71016 US Dark Green
P8342 is also close to the finish line. I think I get that kit done this coming weekend.
Torsten

It looks absolutely gorgeous Torsten.
A VERY sharp looking Spit Torsten! Those black and white lower surfaces really adds some interest to the model.
You really seem to get along well with the Vallejo and Revell paints. I haven't tried the Revell ones (they aren't very common here in Sweden) but I have lots of Vallejo that I only use for detail painting nowadays, I never got them to spray that well for some reason.

Magnus
Torsten,
I'd love it if here we used the same philosophy for shows, but local clubs to the IPMS and NNL regional and nationals is primarily about huge contests. And like you, I long ago lost interest in them, nor spending my build time concentrating on what judges would like to see over things that they don't care about but i do in my builds. I've also at times have been at odds with judge's decisions, and honestly there's always seems to be some favoritism in who wins/places, and who doesn't, but that's just normal. I'd much prefer to do it your way.
The first Spitfire across the finish line is certainly up to your museum standards. She came out looking simply outstanding. And as Magnus said, the Black/White on the bottom of the fuselage/wings really stands out.

joel
Thanks for your feedback, guys! Glad to hear that you like my efforts on this build.

Magnus, we get Revell paints here in every toy store, Vallejo only at the LHS or internet. These Aqua paints are mainly for brushing but I thin it with about 50 % Sidolin window cleaner (water can also be used) and so it goes well through the airbrush. Though the pigment is larger than in Vallejo or Gunze. But it works for me. I don't use it for fine details. There Vallejo or Gunze is my first choice.
Joel, I'm glad to hear that we have the same opinion about modelling contests
But the underside is Sky and not White. It only looks that way because of my bench lamp …

When I start the other DualCombo of the Mk. I (one day in the future …

) there are also options for a white or even silver underside. I'll make a decission when I get there. But my next project is something very different. And now, back to the bench! Still have to work on the door of P8342!
Torsten

Have finished the other Spitfire this afternoon. Noticed that the big roundels on the wings look a bit blotchy. Don't know what caused it. It's also visible on the the other build. So it must come from the decal, not from my Bodenglänzer. Had further to do some final paint repair at the entrance for the open door but I hope you don't see it …

But now I call this build also done and ready for take off …

Spitfire Mk. IIb, P8342, UZ-N of No. 306 (Polish) Sqn, RAF Northolt, August 1941
Pilot: Sgt. Marcin Machowiak
Kit: Eduard 1/48
The pilot crash landed this Spitfire at Biggin Hill on the 28. August 1941 in a forced landing.
For the camouflage I have used:
Vallejo 71016 US Dark Green
Vallejo 71273 Ocean Grey
Vallejo 71307 Medium Sea Grey
Revell Aqua 59 Sky
… and both Spits side by side …

After nearly 100 w.i.p. photos this dual build comes also to end. I want to thank everybody of you who followed me with encouraged comments and/or Likes. My next build is something completely different and maybe you like to have a look at my Bundeswehr Feldumschlaggerät thread at Armorama from time to time. Would be happy to see you also there.
Happy modelling!
Torsten
A beautiful pair of Spitfires, Torsten!
Congratulations on another 2 fine additions to the display hangar

Fantastic work Torsten. Great additions to your collection. Loved every minute of watching these come together.
Great stuff Torsten, I've been following along quietly as always enjoying your progress on this duo.
Cheers, D
They look great Torsten
Thanks for your nice comments, guys! Much appreciated! Glad to hear that you enjoyed following the builds. A Spitfire will always find its admirers…


Don't know what plane I'll build next, but when the time comes my stash will tell me for sure. For now I will concentrate on the FUG, something I've never built before.
Happy modelling everybody!
Torsten


Torsten,
The 2nd Spitfire came out looking perfect too. I'd say you've got a great pair for your display shelves and the next show.
I looked and looked but couldn't see any issues with the roundels. Wonder if it could be from those cover films, which is a 1st time ever hearing about them.
So, the armor build is up next? I'll have to take a look at your build thread for sure.
joel
Thanks for your kind feedback, Joel!
I believe the blotches on the decals are in the print. It can be seen at a closer look and is less visible on P7666 than on P8342. It's already visible here after I took the cover film off. So it must come from these decals, all others look fine.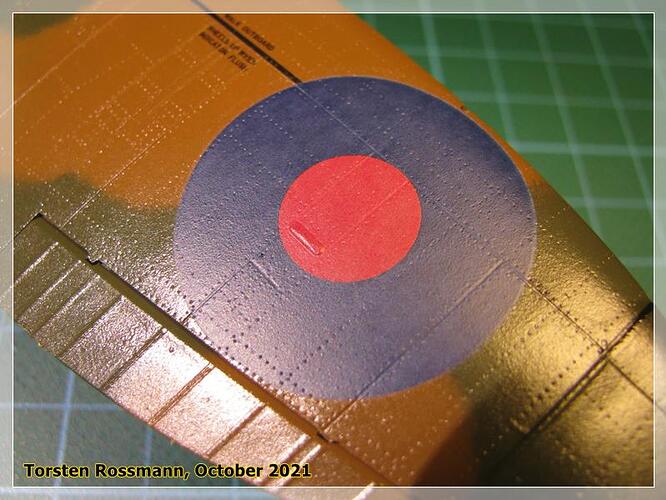 The FUG is a soft skin, so not really armor but it's mainly in military use. Though it's in use since the 1980's, I can't remember to have seen them during my service time. We always used our hands to load and unload our trucks. We were only poor tankers …

Torsten,
I see, but the decal still looks fine. Since in real life they're stenciled on, one can expect that the coats of various colors aren't going to be even nor consistent. With your build, it still meets your high museum quality standards.
joel
Thanks, Joel! Yes, everything looks fine for me and I'm really happy how the Spitfires came out. The issue with the decals is annoying though. But I won't tell anyone, except you folks…

This was a spontaneous decision for my next aircraft project. Have noticed that I haven't built a jet for quite some time. The last one was the MiG 21bis in March 2020 in the old Aeroscale. So it's time. And this is my choice. Just a few weeks ago I've got the Lockheed F-80A Shooting Star from Hobbyboss from my LHS. It wasn't even near my wish list but for 20 % discount I couldn't say "No". And we just can't have enough kits in our stash for bad times, can't we?

… after all the great Eduard kits with its 1000 parts this should be a simple build (hopefully) with only 116 parts …
… let's now have a look what is inside the box. Sprue A holds the front parts of the fuselage and some parts for the tricycle landing gear …
… Sprue C has the rear fuselage parts and the elevators …
… Sprue D comes with the wing parts …
… Sprue E holds the engine, cockpit and main landing gear parts …
… Sprues F1 and F2 have the external loads …
… the clear parts on Sprue G are carefully packed with foam foil …
… like on the Su-2 the intruction sheet for the F-80 is not much more than a leaflet. In 6 steps I should come to a built model …
… Hobbyboss offers 2 decal options for this kit. I will build this nice colourful bird from the 56th FG in 1948 …
… beside the decal sheet the kit has also a small PE fret. I have also bought the Eduard mask EX418 for cheap money together with the kit …
Don't know when I'll start this build but it will be soon. It will go side by side with my
Feldumschlaggerät FUG
on Armorama which is already in progress. Hope you guys will again have a look in here from time to time.
Happy modelling!
Torsten

Famous last words…
Torsten,
great change of pace and subject for sure. I actually built this kit way back when, and loved it. Builds up perfectly. With your skills it should be a true masterpiece for your jet section in your museum.
I actually found a picture of it, and the model still exists but in storage.


joel
Joel, thanks for posting your build. Looks fantastic and I think I remember your build blog in the old Aeroscale some years ago. Well done!


Oh yes, Peter, a great album from a great band!
Have seen them live that year in Hamburg when they still were 5. Looong ago … Have the album here as LP, CD and on stick …

I know how that works