Awesome micro details Wade keep up the outstanding effort!
Fantastic work so far Wade, I look forward to seeing it painted. Thank you for sharing it with us. Best regards…Dale
@Dale_Hines, thank you Dale. I ready to spray some paint as well! Appreciate your time and looking.
@Johnnych01 and @SSGToms, John & Matt, thank you for the very kind words. Honestly, both of you have played key roles in this one staying on track.
@Panzer_modeler Ezra, Thank you
Pz III build Cool! I can't wait to see it. Hopefully the Pz III will be a nice fun build. If you want a set of Dragon Magic tracks for the model let me know and I'll send them. Have a spare set from a Dragon Pv IV F1 that need a good home.
You'll eclipse my level of modeling with your talent and dedication very soon. At your age, leaving finger prints was part of my weathering:)
Thanks wade, but your about a couple hours to late I already glued on and sagged the rubber band tracks. Very nice offer though! Cant wait till the next update.
Cool beans! That technique works well too. Looking forward to pics
Ezra, wow! That's an amazing rate of progress.
Noticed I've wasted a lot of time, finding, flipping and misplacing the five sets of instructions and reference on this build. Kit instructions, Achtung Panzer, Tamiya Pz IV Tool instructions, The Show Modeling Pz IV PE instructions & On The Mark Pz IV PE instructions.
Picked up a book holder and pull all of that stuff into for easy viewing

.
Hopefully this will help a bit.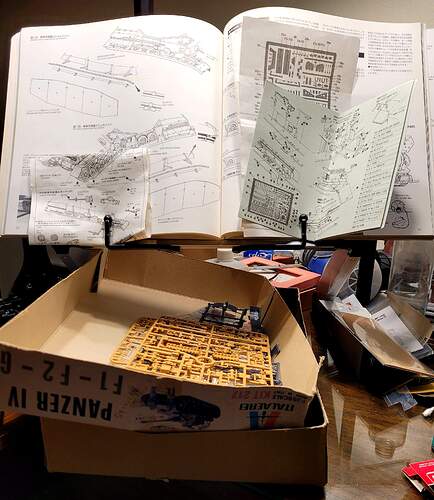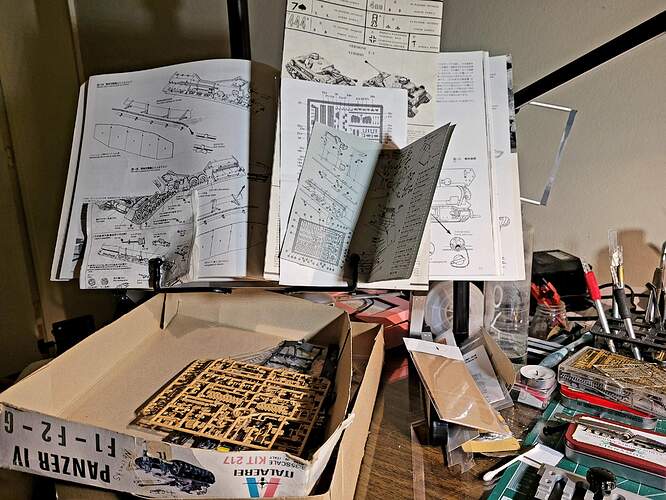 Wrapped the jack today. Started with The Show Modeling brackets but soon discovered the hinge details were in the wrong place for the jack selected. Switched to the On The Mark brackets which started four parts each instead of one. They ended up cut apart into five parts to get a roughly OK fit. Used .015 rod combined with the PE for the hinges.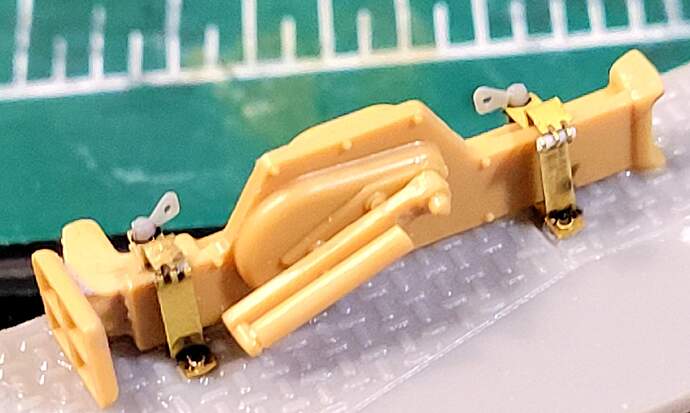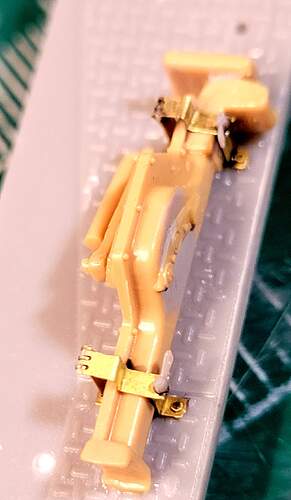 Three tools to go on the fender plus rivets


Planning to do twin Bosch headlights, which means adding one to the radio operator's fender. Noticed when test fitting the tools with,the headlight the Tamiya hand crank would have to be repositioned, flipped over, tweaked and have the brackets redone.
The Tamiya hand crank is pretty nice. It's a well molded part. I have used one many times the past. Yet I'm never keen on using the molded hand cranks. I was less than excited at the prospect of cutting molded in brackets off of the part and keeping it round.
Rounded up various thin stainless steel tubing from the junk box and a tubing cutter to try to make a new hand crank. After a couple of tries ended up with this result.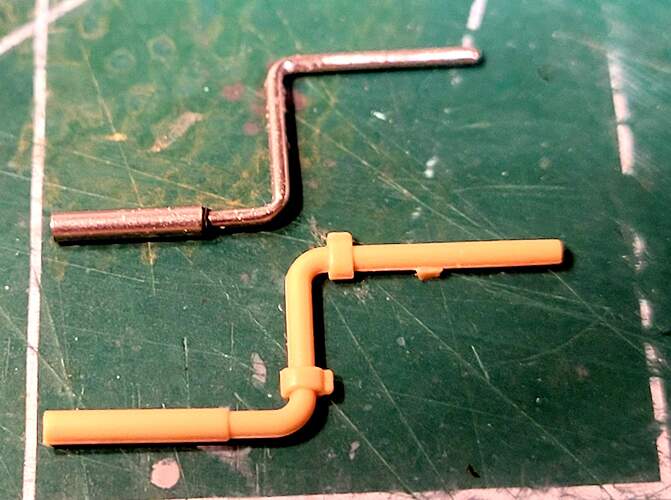 Added the base of the clamp still need to do the handle.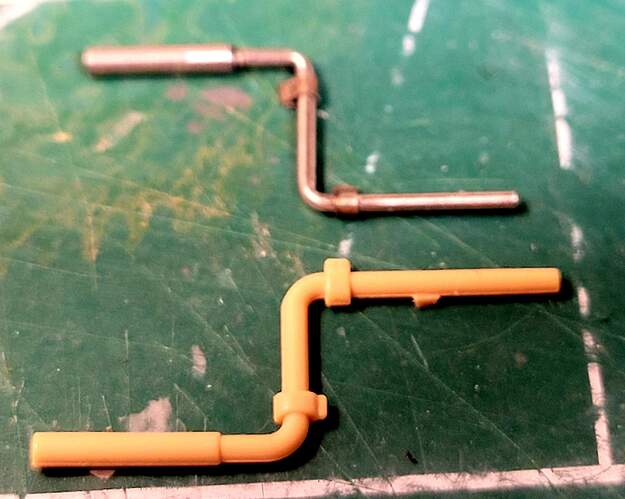 Hopefully this fender gets wrapped tomorrow.
Very nicely done Wade. That looks 100% better and alot more realistic…
Thank you John
The clutter factor with this build had to be addressed today. Re-purposed a shoe rack for storing tools & supplies. With the book holder for instructions & references the model desk got two tweaks this week. Will test this tonight and probably tweak set up again
Have only rivets left for the fenders…WOOT!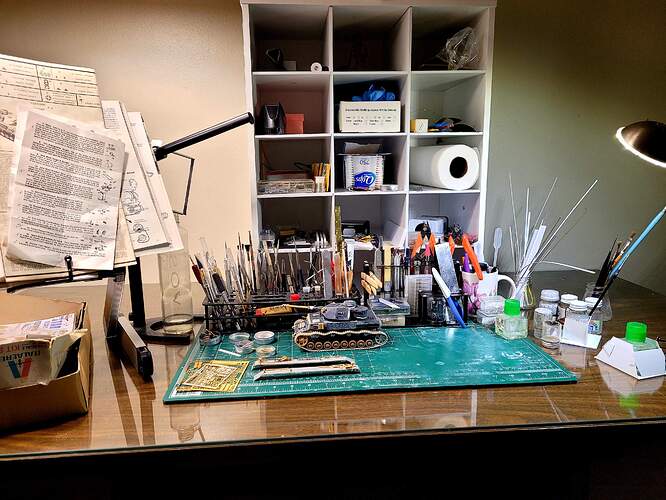 The fenders are finally built
Over 220 parts between them.
The from the front. Added a few more rivets and reinforcing strip to front fender flaps.
Radio operator fender.

Driver side fender.

Several details remain to add to the turret & upper hull.
Turret - muzzle brake, lifting eye, vane sight, two pistol ports, antenna guard and replace lock on top of turret hatch with a bit of PE I didn't know was on The Show Modeling sheet.
Upper Hull - lifting hooks, chains, cleaning kit, shovel, radio antenna, antenna tray. Try scratch building spare road wheel box.
There may be a few other items.
Your work goes on Wade…

Ahhhhh those fenders are a beautiful work of art Wade. It will be a shame to cover them with paint. But such is the destiny of our hobby. Congratulations on another aspect of this build conquered and my admiration for your incredible attention to detail and perfect execution of same.
Outstanding attention to detail as Matt said a shame to have to cover it in paint. But as the saying goes you know you did the work. I'm sure you are quite satisfied with your effort.
Or as an out the park idea… Mask one half completely from muzzle to engine deck and do a half and half … Naked on one side, and the desired paint finish on the other . … Not ideal for the purists but interesting…
Thank you friends.
Grinding along to the wheel storage box today.
Here's the kit part.
Decided try scratch building one. Made the side pattern using the kit part. Cut out the sides from Evergreen sheet plus Evergreen strip.
Add a floor the box to make it sturdy. Copied the tread for the box from the OTM PE thread plate sheet with aluminum foil. First tried using the PE but that was major hassle. Found riveted PE strip in the spares box from a Tiger build from the 1990's, used it on stowage box. Added rivets of course plus attachment straps.
Adding the floor made the box a bit shallow. Will cheat and sand the bottom of road wheels slightly flatten.
Worked on the cleaning kit today. After staring to clean the Tamiya main gun swab noticed it's for a Pz IV H or J. Picture is from Achtung Pamzer 3 and posted only for discussion and illustration purposes. Verification found in wartime pics of Pz IV G's.
So decided to try,and make a cleaning kit. Used extra The Show Modeling brackets, guitar string & stainless steel tubes.
Cleaning rods & brackets.

Tamiya part for H or J and mine attempt for a G.
Still have to do the swab part.
May use Tamiya part for that but want to try making that too.