One of the family cars I learned to drive in was a '67 Pontiac Parisienne, this is me at about 15 leaning casually back in the middle.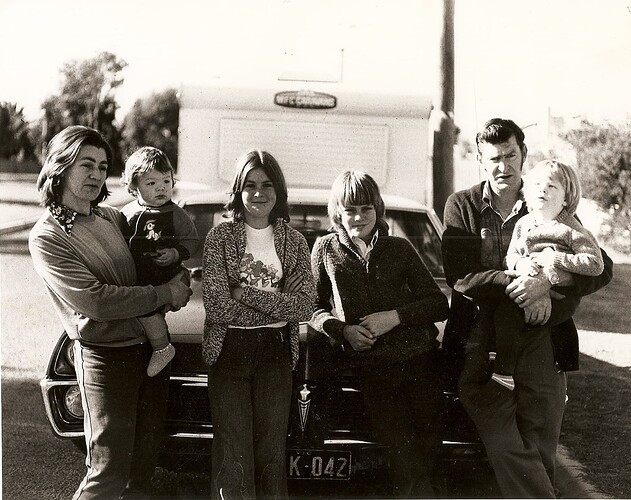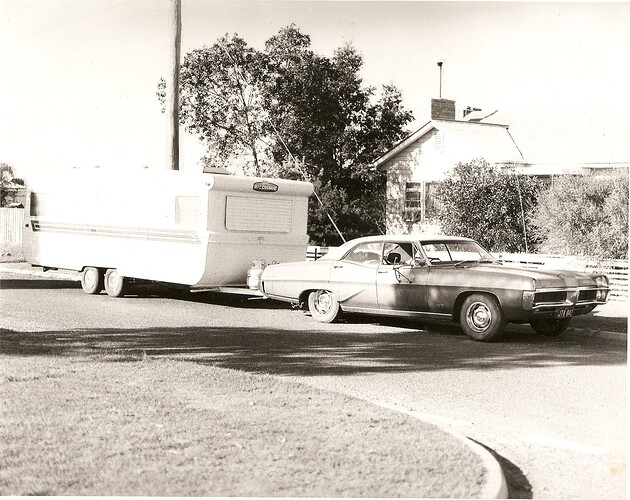 The car was unfortunately parked outside for too many years and ended up beyond restoration due to body rust, and was sold to a restorer for the chrome trims and other parts about 10 years ago.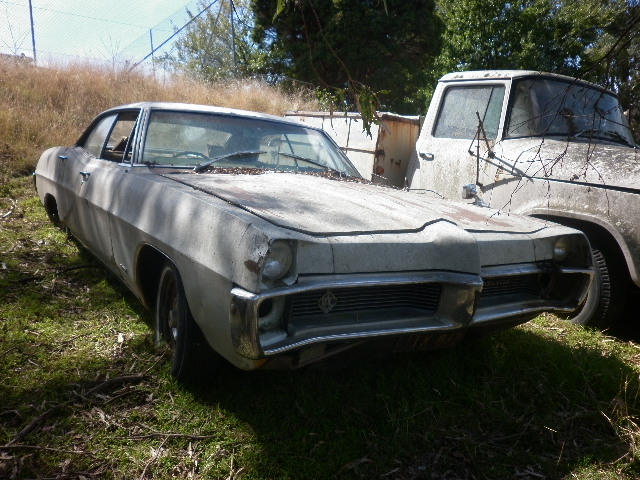 The only kit I have seen out there that is vaguely similar is the Hasegawa '66 Bonneville, and I stumbled across one last week while browsing through a local shop which deals in pre-loved kits.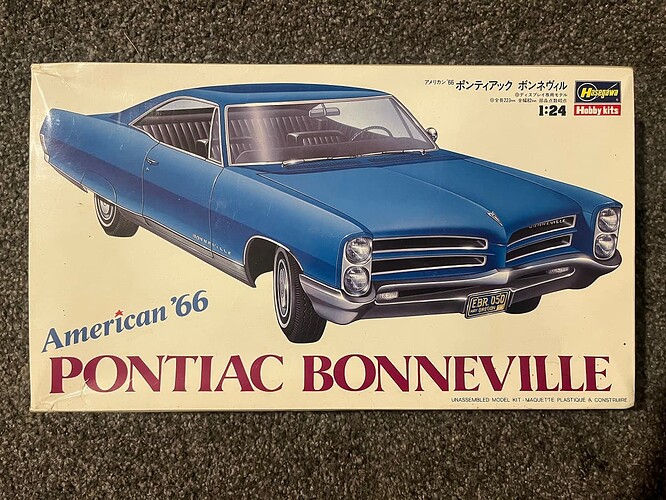 It's a kerbside kit with about 25 parts, so it should be a quick and easy build when I get around to it.
Cheers, D
Love the family photos D - thanks for sharing . My dad was a Mustang guy but my mom drove a string of Pontiac Catalinas of that era .
Dad was Pontiac all the way, at one stage we had the '67 Parisienne, a '69 Bonneville, and a pair of '64 Laurentians. Mum had a Hillman Hunter so I learned to drive in a 4-cylinder 4-speed manual shoebox one day, and a 307 Chevy 2-speed Powerglide land yacht the next
Cheers, D
Sounds like you and I may be brothers from different fathers and mothers . First car I ever drove was my older brother's 65 Mustang Fastback . 289 4 bbl / 4 speed.
My father made him take me to the barbershop for a haircut I didn't want - I was pissed so to cheer me up he let me drive it home at the height of tourist season with people and traffic everywhere. I was about 15 IIRC .
Regarding the land yacht bit , my mom's 2nd Catalina was a 2 door coupe with the biggest doors in the universe - I don't know how they stayed on their hinges .
Under the hood ( bonnet) there was about 2 feet between the front of the engine block / fan and the back of the radiator and a huge plastic shroud filled the void .
D,
Looking forward to following your memory build. I'm sure that we'll have more then a few memories tidbits along the way.
My parents jumped between Fords, Mercurys, and Pontiacs, but I've always stayed a Ford kind of guy when it comes to American Iron. Best Pontiac was the 2 door Grand Prix that I learned to drive in, but the biggest boat was a 4 door Mercury Marquis. Still, my favorite was the 1954 Ford 4 door Crestline. I really wanted that car, but Dad sold it from right under my feet.
joel
I only needed some supplies, no kits, but you cant buy paint, scalpel etc. and not buy a kit. I did restrain myself though; only one kit.
The squeezed bottles I thought could be useful, for a build I haven't touched in years(Will get back to that one.) .
My old scalpel handle, was a no name, for which I cant find blades, that fit, so a new one was needed.
The gloss clear coat, is for the Dino build.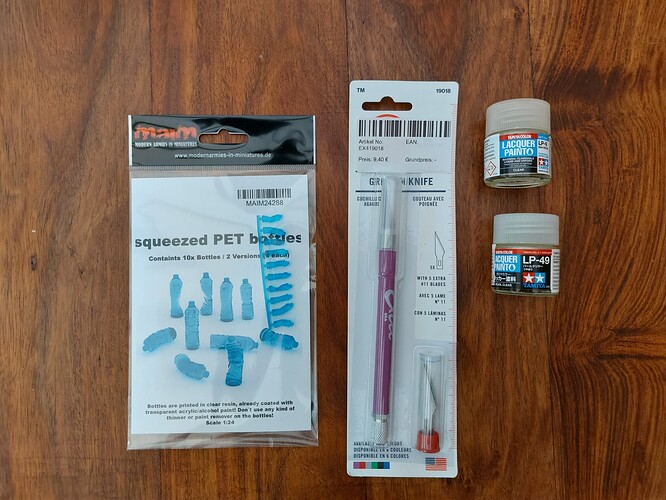 Jesper,
Great minds sure think alike. Just last tools order I bought another new knife as I never seem to have enough of those handles. I use one each for #10 & 11 blades, one for decals only, and one for PE work. But I needed one for the new chisel blades I bought.
As for the Tamiya LP 49 Gloss, it's by far the best lacquer gloss clear I've used by far. I'm still way to uncomfortable trying any 2K in the house even with my paint booth venting directly outside.
As for the kit you bought, I haven't built a street sports car in years. With my current order I placed yesterday, I ordered the same kit but the convertible version, as way back in yesteryear I not only was frequent passenger in my college buddy father's Jag, but I got to drive it a few times. It was the convertible version BRG with a tan/saddle interior. So that's the one I'm going to attempt to do.
joel
The bottles are 1/24. I need to look these up
You lost me on the 1/24 bottles. They're 10ml.
joel
the scale is 1/24 as printed on the package
I just realized that you were talking about the scale bottles not the bottles of paint. Sorry, I guess it's just another Old Age screw up on my part.
joel
Indeed, they do
The convertible, is on my list, for future buy's.
Maim, makes a lot of cool stuff, in various scales. The bottles come in several colors, squeezed as well as un-squeezed. They look really good, but the blue color should have been toned down a bit.
Jesper,
My kit came two days ago. Can't wait to build it. Wonder how well my fond memories are compared to the reality of what's in the kit.
joel
Another Facebook stash clearance turned up a kit I've wanted to pick up for a while now, and at a good price as well!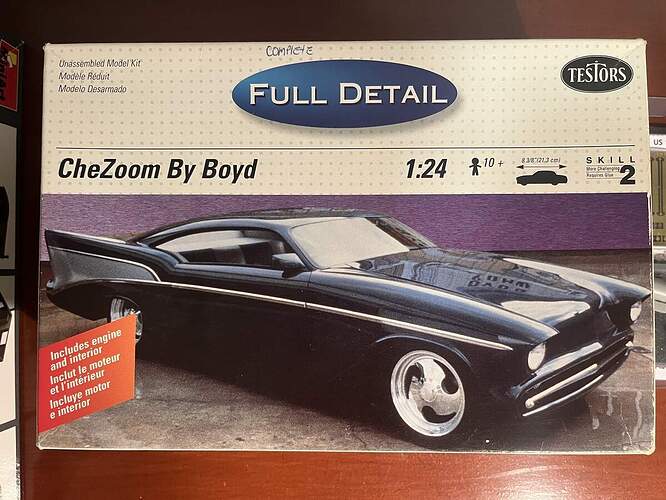 I will get some sprue shots and write up a review for this one I think, it should be a fun build. The shell is from the curbside version of the same kit, so I will need to cut out the hood to show the engine.
Cheers, D
Not been to this part of the site for a while and just gone through the posts since I was last here, some interesting purchases.
Two purchases for me, first a Skyline R34 (stock photo)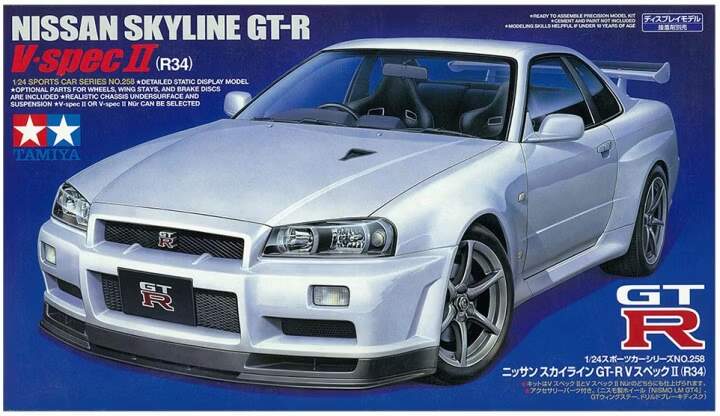 Second a bit more expensive and for Dennis and Joel it's a Hybrid
My new ride a Lexus RC, not all Hybrids are boring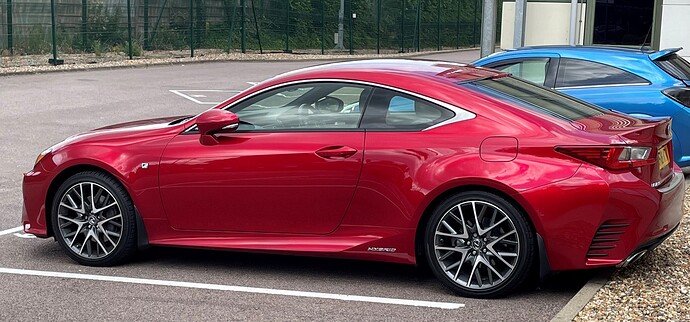 Lottorio,
Oh WOW!! Now that's some ride. Great styling, great color metallic paint, and simply outstanding wheels. Is the wheel on the right or the left side, I can't tell from the picture.
joel