I thank you for designing me the casting symbols for my R35.
Good luck!
Your Customer Service was amazing, James, and thank you for fulfilling my orders and exhibiting top quality.
Take care and have a fun, happy, safe, warm, healthy, and prosperous 2023 with your family.
@James_Lee; if you need exact measurements on the WW2 ammo cans (.30 and .50); I have both versions and can give you measurements if you need them.
Your work has been inspiring James but you definitely need to think of the family. It is easy to get engrossed in things and lose sight of those important things we all kind of take for granted.
Spend the quality time with the family, strengthen the bond and take care.
James,
Thank you for your creative contributions to the KitMaker site. It's been a good run. Now I hope only the best for you and your family.
—mike
Not selling but just showing the CAD work after @SableLiger gave me some reference photos. These will be for my personal uses:
WWII 30 cal ammo can:

WWII 50 cal ammo can:

@James_Lee, Great to see that you are still active in the hobby and willing to show your work.
Here here. Looks good James.
How it looks after printed: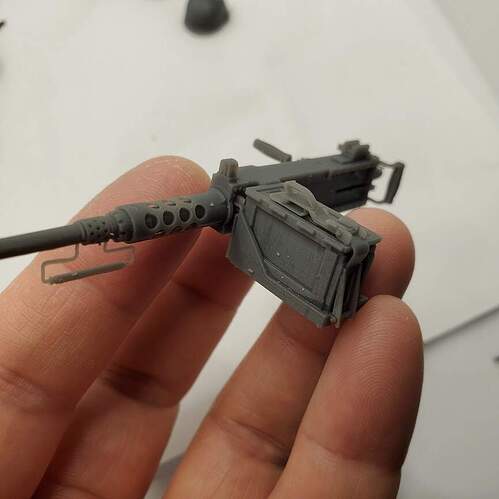 I need to adjust the holder/clamp (?) position a bit so it will be closer to the center of the ammo can. Top view:
The clamp is the same one I used on 30 cal. mg project: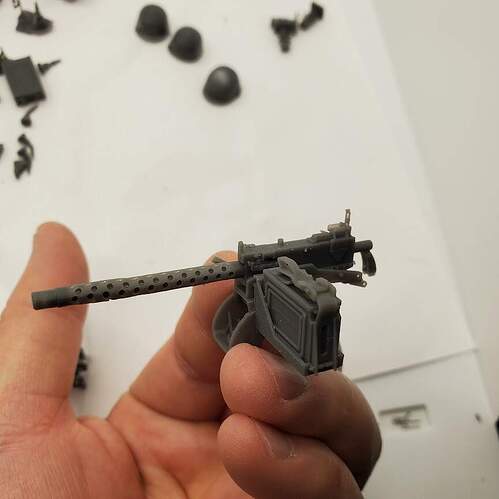 Kind regards,
James
Sweet work. Very Impressive.
The detail you (and your printer) have achieved is stunning. Some I didn't even consider for my 1/16 .50.
So nice to be printing for fun and not to sell. Some [non-armor] prints for my son (from his favorite game, Minecraft). This one done on FDM printer.
With the weapons package~!

Very cool James. What an amazing time to be a kid.
I could use 4 or 5 sets of those James.
Denis,
I'll send you some later. Not sure if I have 4-5 sets available but I may have 3 pairs at least already printed.
One of the last remaining orders that came in before I closed the shop is this Coffing Company's roller chain host - apparently used in the Vietnam War and still being used today:

Still WIP but planning to print this weekend:
Kind regards,
James
Three would be good, for now at least.