Is that one of those kamikaze drones?
Ken
This is almost as good as the video you posted of the BAT-4 pushing Hummers out of the mud with its dozer blade.
What. Your doctor does not give you a CD/DVD for late night viewing? Mine did. Now they offer to email it… …never watched it.
I have a big family history of colon cancer. I have been getting tested every few years for over 20 years, and I can confirm, the prep never gets any better.
Thanks for the

outlook on the tests.
Had my first one in the 90s. Every 5 years or so ever since. Just a little present from the Army after my time in the Gulf War. And no, it never gets any better.
Ken
That's a nice touch. With available software even the average desktop can do some interesting video effects; you could have scratched up a small sci-fi craft and made your own version of "Fantastic Voyage".
I understand Michael Perry (of Perry Miniatures) has a video recording of his right hand being blown off while reloading a cannon at the 1996 re-enactment of the Battle of Crécy; he subsequently appeared as a mutilated extra in "Saving Private Ryan" and "Band of Brothers" (he was also a Rohan cavalryman in "Return of the King").
Some years ago a woman in our office was expecting twins, and had a photo of her ultrasound on the screen of her desk. About the same time I had a scrotal ultrasound and I asked for a photo so I could do the same. I was refused out of hand, but I suspect if I had obtained one displaying it may have caused a negative reaction. So much for equality…
Cheers,
M
I wonder if this is training
At least you did not go to the other 60's sci-fi option:
"Voyage to the Bottom… "
It possible it could be a cut and paste propaganda piece.
But it is a bad ass system.
Hi guys any recommendation for the best Leopard 2 A6 kit that they are finally going to send to Ukraine?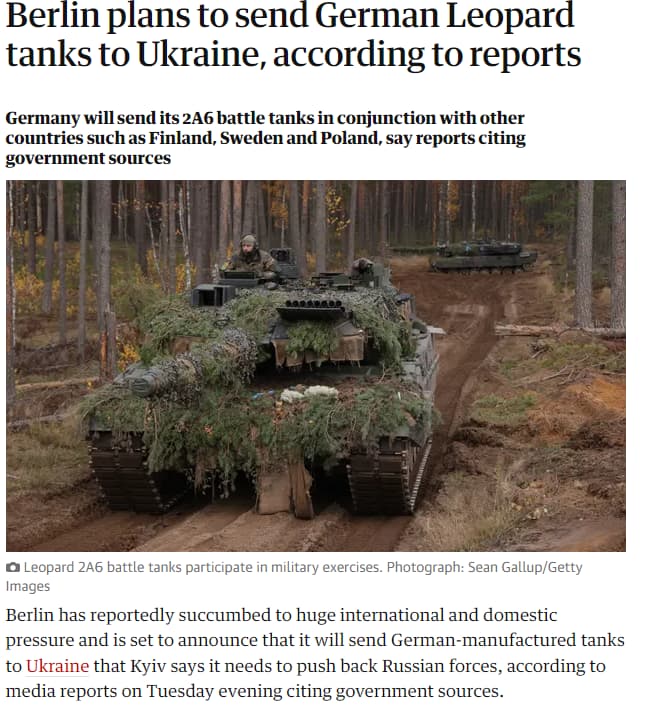 Well, this war is very different contexturally, the enemy is different, the terrain is different, the equipment is different and the defenders are highly motivated to succeed.
Read the news today… Zelensky will soon have around 100 modern Western MBT - a very significant asset.
Oh, and although there is a debate on whether face masks were effective (the existential effects were far worse than any positive effect they may of had in my own opinion), the Russian economy is demonstrably going downhill like a tobaggan with now the worst economy in the G20.