Damn right! I'd set aside a lot of stuff that didn't get used, I suspect some of it will end up a scenery, either for wargaming or in a vignette with figures. One of the problems with the thingamajig is It doesn't sit on a stand. I drilled a pilot hole for a rod at the only point sturdy enough to take the strain, but that ended up too far forward of the final center of gravity. I'm thinking of some sort of docking cradle set on top of a tower, but that can wait for now - there's another project with a deadline to meet which I would like to have a stab at…
Regards,
M
Thank you! I'm getting the urge to do some more similar stuff, but I plan to go to another part of the Network and confuse them, this group has suffered enough…
…at least, for now!

Regards,
M
I think you're onto something, a docking bay with a jumble of pipes, perhaps a fueling port with hoses . . . make it so lieutenant, warp speed ahead

Cajun
I anticipate whatever (if anything) the Space Oddity ends up on will be fairly plain to maintain the scale-free theme. The wotsit itself is looking like getting a re-paint and new nacelle caps when the weather warms up. Your suggestions for something with a lot of background detail do fit with something else I'm thinking of, a corner around which this lady can lurk…
http://www.mbltd.info/figures/1-24-scale/spaceport/24055.html
(If, by some chance, you haven't already seen them, the rest of that range are well worth a look.)
Regards,
M
Beautiful build, Stephen. The end result and the decals came out great!
Congrats on finishing.
Here is my completed K2S0 from Bandai. Great kit, as most Bandai kits are. If you are interested in build details, I wrote them up here: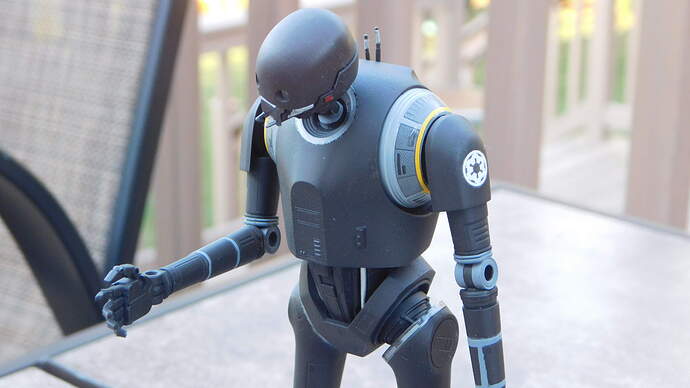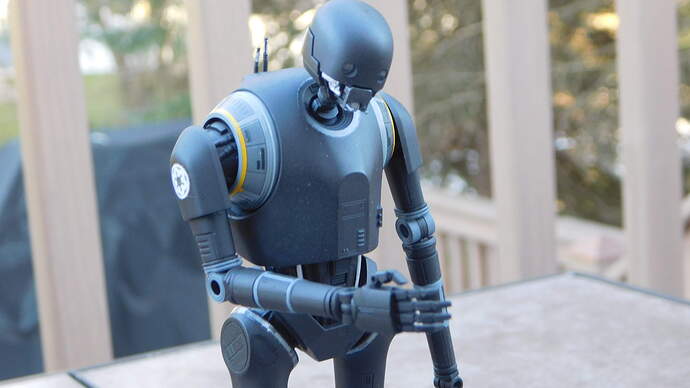 Thanks Jesper. Despite the issue I had with the decals, it was a fun kit. Made a nice change from aircraft and tanks.
Very nicely done johnnyO. Looks really good
Looks great. Really nice neat finish on the paint work.
Does the figure have any articulation?
Yes, tons of articulation. The arms, legs, head, hands, and torso are all posable.
It comes with clear inserts for the knees/elbows, but I like it better without. That makes the joints a little more brittle, but I figure I can glue them if I need more structural integrity
Now I'm wracking my memory trying to remember which of the movies it was where I spotted the parts for the wicker ammo baskets from the Tamiya 88mm FlaK 36/37 kit used as greeblies on one of the ships.
Really like this, although I am a Sci-Fi fan I've never thought to model anything along those lines. I'd have been tempted to model this as a lineman from Patrick Tilleys Amtrak Wars series. If you haven't read them they are really good.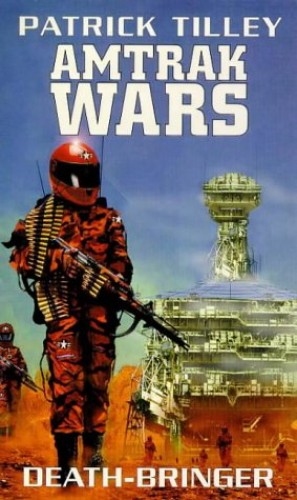 You can actually probably make that book cover art now—use the Verlinden 120mm "Soldier 2000" figure (shop around for the best price) and I think that you can get a 120mm M240 or L7A2 machine gun from Shapeways or a resin aftermarket seller.
The helmet on the Verlinden "Soldier 2000" is almost a dead-ringer for Tilley's cover art.
Read that series twice now. Yeah they are a good read. The covers have changed several times since I bought the original paperbacks…
I seem to remember the 88mm wicker ammo boxes as being greeblies on the Battlestar Galactica, along with some PzKpfW III/IV road wheels.
please tell me this is still active!
I've just taken a renewed interest to warhammer, and thought i'd take a trip to the model/book store to pick up some "Primaris Intercessors" from the Ultramarines Chapter. i'd really like to have a just reason to buy it. although, I guess, I already do.
Cheers!
L