After the success I had in building (and blogging @ BLOG: Kitty Hawk 1/35 SH-60B Seahawk ) the Kitty Hawk SH-60b Seahawk, I was excited to tackle the Takom kit when I read about its release. Like the SH-60b, this is a large scale model meaning that all the cool helicoptery things—like complicated rotor mechanisms—would be highly detailed and "fun" to build. The Takom kit does not disappoint. I chose the Longbow version because it's very cool, and is an effective weapon in the US arsenal.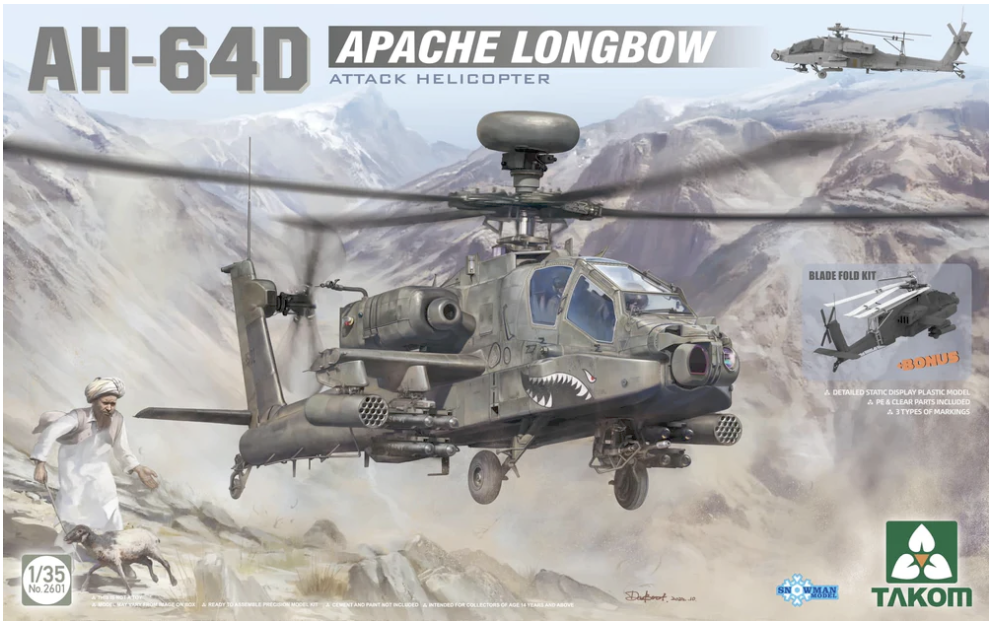 I tend to pick plastic kits based on a few criteria that I've had since I was a kid building a model a week: high parts count, fat instruction book, lots of decals… and a neat subject. This model checks all those boxes. Along with that complexity comes lots of fussing and potential frustration, but hey… as my wife reminds me all the time, "Stop whining! It's your hobby. Nobody's telling you to do it."
As a very modern kit, there's wonderful surface detail and texture and should look great. And also because it's a very modern kit with state-of-the-art molding technology it has parts that are almost too fine to handle, install and hold up in handling. A perfect example is the hand grabs. The instructions tell you to attach them very early in the process. This will guarantee them being broken off many times before the build is complete. Furthermore, even installed later, their survival is dubious at best. I will change them out for bent wire, which I had to do on the SH-60b for the same reason. This time I won't even attempt to use them first, I'll go right to the metal.
In the SH-60b build, I also purchased the Reskit detail-up components (Rotor Head, Rt Hand GE T700 turboshaft engine, Tail rotor and Rear End Hinge assembly). The T700 in this model is nice enough to use and, more importantly, won't require any extra surgery to get it fit into the plastic model's airframe. I'm also forgoing any aftermarket parts for the rotor head, for that too seems to be very intricate out of the box, and much is hidden under housings so the work is never seen.
I may splurge and order the Reedoak resin pilot and gunner figures. They are stunning and would be a great asset. I will super-detail whatever is practical and will be seen. I don't want to go down the rabbit hole of detailing invisible parts of the model.
Today I officially got started. I unpacked the sprues and installed them in my fancy, homemade sprue holder. I carefully crafted this out of scrap cardboard and a hot glue gun. The kit's part count is high and it fools you since the sprue holder has a lot of the alphabet unused. Lots of parts on some of the sprues. The SH-60b used more slots as did the RyeField Sherman A3M2.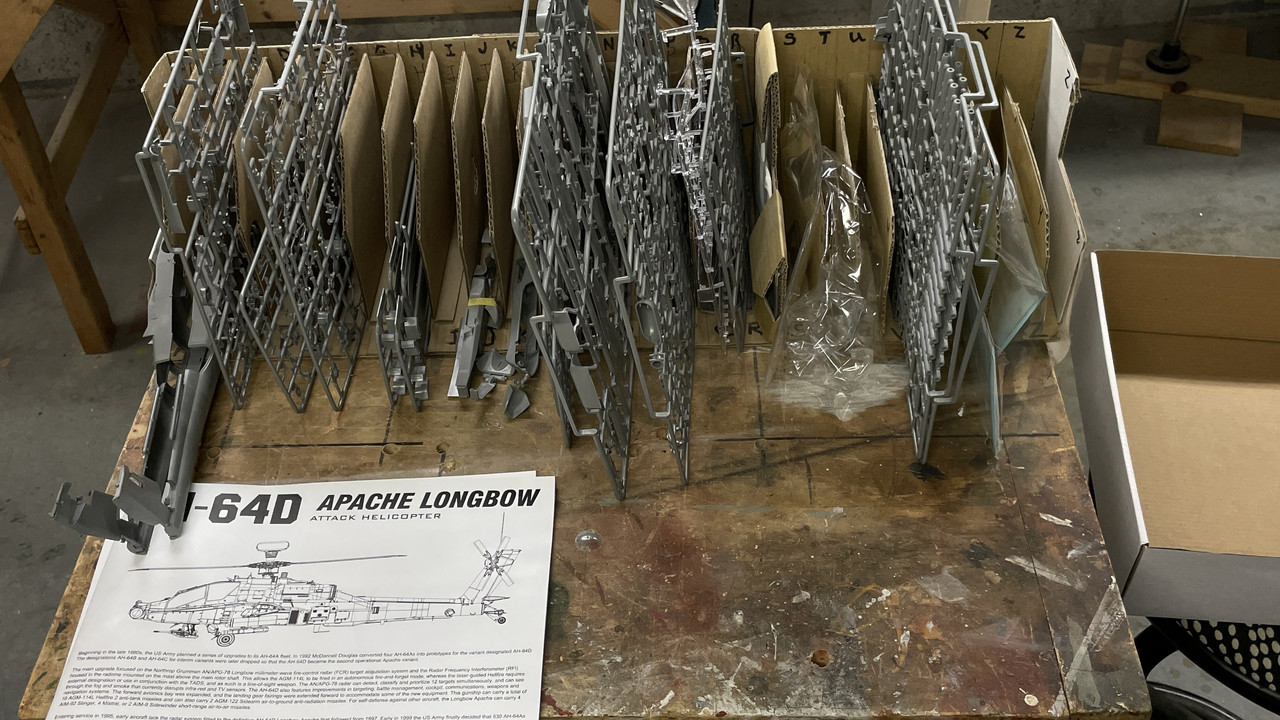 So stay tuned faithful readers. This should be a good one. The fellow that did the review in this fine magazine spent 150 hours building his and I do not believe that he added the vast amount of piping and wiring this model could display. The kit has a bonus "blade folding" kit, so the blades can be realistically folded. I will need this (as I did on the Seahawk) since I don't have the shelf space for a fully unfolded 1/35 large chopper. I didn't know they folded, but imagine it's a lot easier to stuff this bird into a C-17 with them in that configuration.