Looks great Ron! All the scratch work really bring it up another notch!
Trigger warning @Chris_Bryan. This post involves a flying machine.
So I've lost steam with the details on the M151. Decided to throw the Mustang in the paint booth for a break.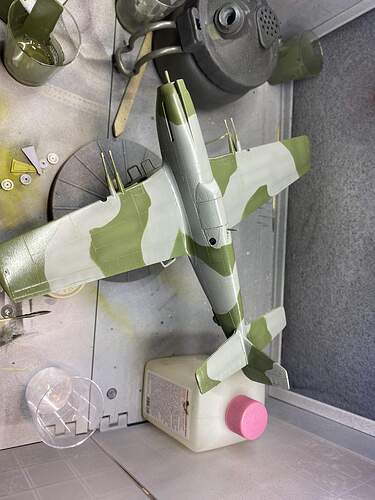 I'm not unhappy with how it came out but there are definitely some areas I need to go back and touch up, especially a couple of those harsh acute angle transitions. I'm always amazed how putty can form a 45 deg angle when it wants to.
I know it looks like a lot of grey on the fuselage but there will be invasion stripes and other markings to come so I held back on the green.
Looks really good!
Sad, I was looking forward to more of your progress on the M151!
@Canmedic . That looks great in the camo . I do the occasional wingy thingy. I did allot of Helos at one time and had a tragic Catzilla incident and lost all of them . Since Ive only built a couple .
I'm more worried about the grey on the cockpit! That poor pilot is in for a rough time…

Only kidding! The camo looks good as a base, but I see what you mean about those sharp corners.
You laugh but I pulled the masks off after and I've somehow fogged in the inside of the port side aft with the aperture for the camera… I think some lacquer thinner got under my mask.
Some disassembly may be required.
Blurry recce pics won't go down well with the Intel guys!
Progress!
Radio has the closest we're gonna get to correct wiring and a handset. Our poor helpless Cpl. Bloggins has been given his personal weapon and his lunch bag and because there weren't enough shades of green going on here already, I've tossed a cam net over the spare TOW rounds.
Next up, white wash, markings and weathering!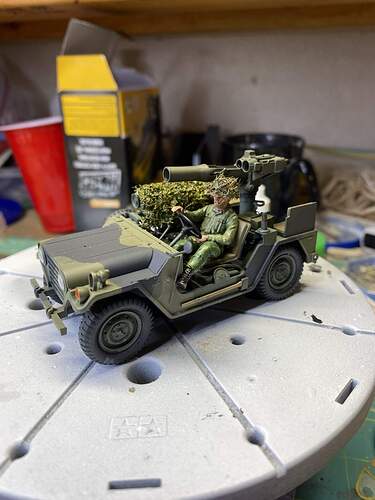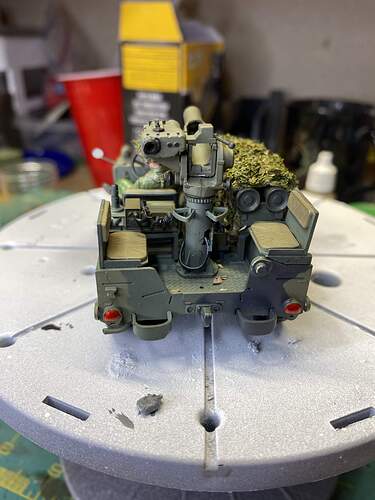 @Canmedic . love the extras . Roll on with it.
The TOW 151 is looking fantastic!
You'll love the kit, it's in my stash, was deciding between that and the Churchill. Overall the kit is really nice
@Mead93 . Thanks bro. I believe this one will be kept simple. I want to concentrate on just good clean build and clean simple paint work . Then again that's what I say with every build, we see how that works out…lol
On a separate note we need to compare Churchill notes . Give it time Im going to end up cutting a churchill up , I have some ideas.
Great haul! Where did you find the workable tracks and how much were they if you don't mind me asking? I'm thinking of picking up more afv club Churchill's but some have rubber band tracks
You're gonna love those Ultracast figures if you've not used them before.
They are excellent, I have a few of the ones he got and they are top notch!
Added some cushion to the Churchill seats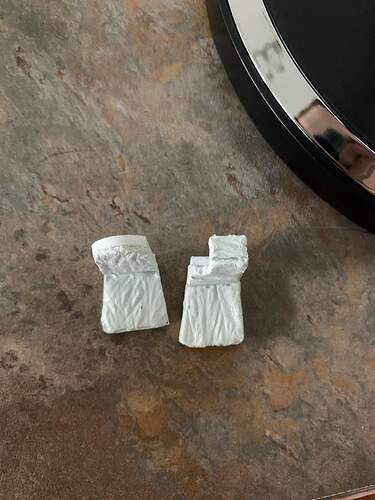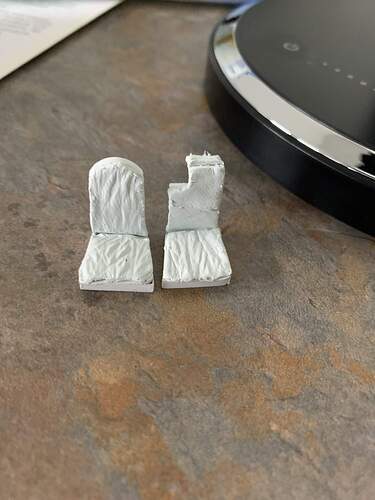 Will probably tone it down a bit with some light sanding
@Mead93 . i like the seats. Yes some light sanding will tone them nicely. Then you can add some mr surfacer 1000 to blend them.
It is better to over build the seats and sand down .
I got the Churchill tracks off of FleaBay, $33Cdn, the Sherman tracks are from Panda Plastics. Loving your Churchill!