Nice job! That really is a mean looking vehicle!
Thanks brother … Still a ways to go before it moves to the shelf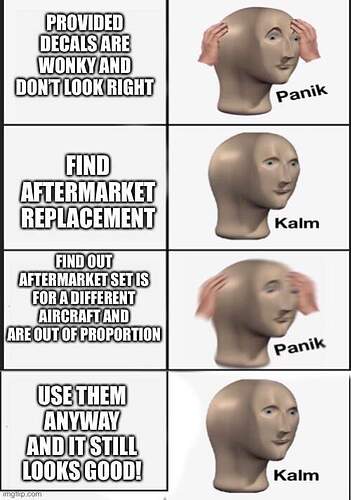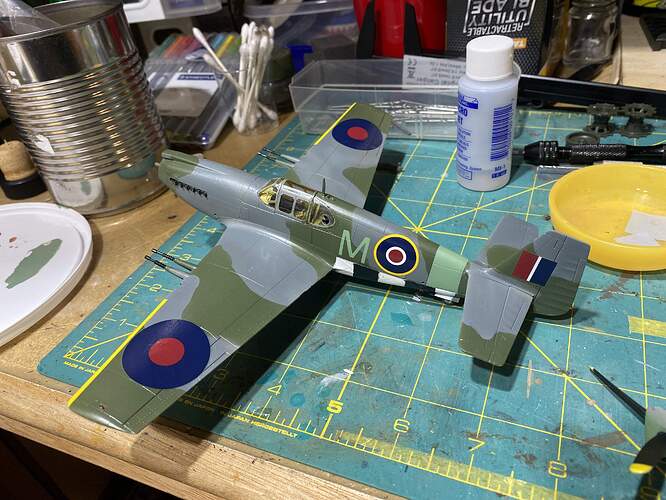 So… turns out the "generic RAF markings" I ordered are actually generic Spitfire and not Mustang markings…. Oh well. They're a little off, especially the upper wings and the fin flash. It's something I'm very willing to live with.
On the plus side, the decals them selves were awesome. They're from Techmod and they are excellent quality. Very thin, no problems coming of the carrier (ok, I rushed one and tore it a little, but that's on me). They seem to be settling down nicely despite the relatively shallow panel lines on the model.
I'll see if they need another coat of Microsol and then onto weathering!
Yes, they still look good and are reasonably accurate.
It is the motto by which I build these days; something is better then nothing, as long as it is within acceptable limits. That eliminates a lot of annoyance and stress within the hobby!
Well, my Canadian Ram Mk. II is complete. A little stowage to dress her up and I'm calling it done. It was a fun build. A little PE, RB barrel, and Masterclub indy tracks. Comments appreciated.

The only thing I'm not understanding, and that doesn't mean it isn't well executed, are the lime green stains.
Beyond that, it's absolutely stunning and you should be very proud
Comments??
I want a RAM too!
Yeah Don I tried Cadmium Yellow and I guess it didn't work. Thanks for the compliment.
Beautiful and stunning build Matt!
Honestly I kind of like the lime green/yellow streaks on the hull.
Finally got brave enough to start gluing scratch built stuff in the stuff Churchill. And started adding detail like rivers and bolt heads to some of the scratch work. Primed the fire wall and I'm getting to be pretty happy with the scratch work. Priming, and I am sure paint, really start to make the scratch work feel like details and not just a mess of white styrene
I hope to have the hull fully scratch built by the end of next weekend. It's mostly details now. The major pieces are all built up
I am really loving what your doing with that churchill.
Thanks I am decently happy! At points, I ponder, why I did this to myself but I think the result will be worth the trouble
Oh it's not the colour. I just wasn't sure what you were trying to represent. It actually adds some nice breakup to the greens/browns
I'm calling my Mustang done! I'm absolutely thrilled how this turned out. I think this build has restored my love of flying machines.
Turned out awesome! Making me itch to start my wingy thing for the campaign!
Thanks!
I'm super happy with the final product. This was a great opportunity to try some new things and break away from green metal boxes.
First time doing a lot of paint masking, first time I've been really happy with a dot filter and I think I have a new technique for cleaning up panel lines.
Shame my decals weren't what I thought they were going to be, but if that's the worst thing I have to deal with I don't think I get to complain.
There's a Typhoon build that I'm following right now and I've always loved the look of those beasts, and I've got the right paints…
The typhoon is a gorgeous plane! I'm following that build too. Honestly, 99% of people wouldn't know the decals are wrong. I sure didn't. And they look great even if they aren't "correct".
I got my start modeling on aircraft. My grandpa was RCAF, he worked at Cheyenne mountains sister base in north bay. My dad grew up on Air Force bases. When I was about 12 my dad showed my a chest he had full of unstated and half competed kits. That's what got me hooked. For years I built only airplanes. Over the last 5 years I've mostly build armor. But recently I bought a Tamiya F-16, from there on I discovered accurate miniatures and my last 7 purchases have been aircraft. A Corsair, 3 AM mustangs, a AM dauntless and avenger, and a spitfire. I find myself looking at planes more than armor but every time I'm on model store websites. Don't get me wrong I love armor, but there are a lot of really interesting planes. And they are a nice break from the monotony of road wheels and monotone paint
That looks like 113 road wheels